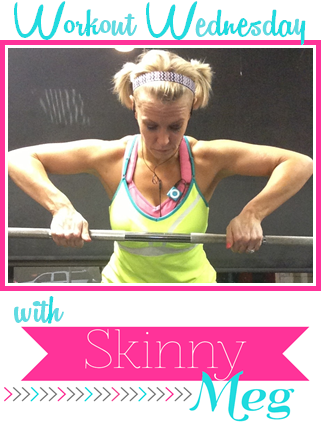 Hello everybody! Welcome back to Weigh-In Wednesday!
If you are new around here, please go check out my sweet co-hosts & make sure to say hi!
Amy @
Write This Down
Bailey @
Being Bailey J
Ash @
A Step in the Right Direction
I'm also linking up with Skinny Meg with an actual workout for Workout Wednesday! (I hear we are calling her PregMeg these days...CONGRATULATIONS!) I love living vicariously through other people's baby happiness and after reading her fertility story, I couldn't be more happy for her!
So this week has been a slow one. Not bad and not good. I'm hoping that at least translates to no gain. I've been a little lax on my eating habits but nothing outrageous. I feel like even if I make a poor choice, I don't over do it portion wise. I have a few bites and I'm satiated which is a stark contrast from my prior habits. Yay for little victories!
Only 90 calories...it could be worse! (Cool Lime Refresher)
I just started Hal Higdon's 5K Training Program and I'm focusing on working my way up to running the whole damn 5K this time - aka learning to pace myself. The speed will come with working intervals and cross training. So far, so good. On an unrelated note, girl needs some Invisalign, stat. My two front toofers are driving me nuts (PSA: wear your retainer!).
I'm a sweaty mess...and I did a thumbs up. LAME.
I'm headed to Atlanta this weekend so I'm not sure how much blogging I'm going to be doing. The good news is that when I come home, I'll be back to my grandma sleep schedule with no more work until school starts in mid-August. I plan on getting very familiar will all the posts I've been neglecting! (This is provided that Nick and I don't kill each other in the 18 hours or so that we will be in a car.)
*Switching Lanes* So I'm writing this on Tuesday and if you read today's post you know it was my last night of work. Well last night. Whatever... I've been excited for MONTHS. Counting down the weeks, days, even HOURS and all of a sudden I'm really really sad. Like bawling sad. The couple I've been taking care of are just plain amazing. They've treated me like family from the beginning and the guy even gave me a signed copy of one of his autobiographies to remember them by. We will be staying in touch through letters and emails.
My year off is swiftly coming to an end and everything is starting to hit me like a ton of bricks all at once. I'm leaving home for good in a month - like I won't be a resident of Ohio anymore. I'm MOVING to Indiana, not just moving in to the sorority house. It's different in a weird way.
Like I've said before, aside from my family and Nick's family there isn't a whole lot left for me here in Cincinnati - at least not right now. I'm happy to be closer to my friends, to be near my alma mater, and to finally be starting my long medical training. I guess it's the realization of how much has changed in only a year that has me being all sorts of ridiculous. Bear with me loves, I just need a good cry or six.
Everyone has a cry face & this might be mine...ok, not really.
*Reverse, Reverse* To round out Wednesday, I thought I'd share a quick little workout that is becoming one of my favorite ways make my fat cry - tabata! HIIT workouts are amazing because you can be super efficient by getting the same (or better) results in a shorter amount of time! Be warned - they are TOUGH and you shouldn't do HIITs back-to-back and certainly not more than a couple times a week. Your body needs time to rest and repair.
I got the idea for this workout - the Love/Hate Tabata - because there are moves that I absolutely DREAD doing. Like when we have to do Burpees at boot camp, I secretly want to shoot laser beams out of my eyes.
Life doesn't work like that. We have to take the good with the bad so I decided to counter every hateful move with something I could do until I'm blue in the face, like squats. Here are my loves and hates!
I hope you all like this one! I'll let you know how it goes when I try it this week (whoops...I guess I'll find out how hard it is soon). If you don't want to worry about timing, there are a bunch of FREE tabata timer apps out there. I will be posting a list of my favorite fitness apps in the near future, btw! Link up and make some new blog
frands!
Now some questions for you:
Tell me one good thing & one bad thing about your weigh in week.
Have you been to Atlanta? What should I check out?
How do you stay motivated on vacation?
What are your love/hate moves?