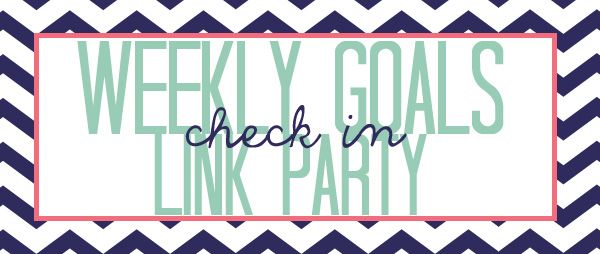 Hello Pretties! As I sit here watching The Bachelorette marveling in the spectacular realness of it all, I decided it might be a good idea to create some goals for the month of June. Life is going by quickly and if I don't write this stuff down, I have no way of keeping myself accountable. Here goes nothing.
June Fitness Goals:
Win all three Diet Bets I signed up for. Why did I do this? Because if I'm going to lose weight and win some money, I might as well win x3.

Complete Jillian Michael's Ripped in 30 with my Weigh-In Wednesday friends! (starting tomorrow)

Track what I eat every single day.

Limit alcohol intake to once a week.

Train for another 5K in July

Yoga twice a week.
One of my roommates from college is getting married at the end of the month so I want to be down a sizable amount by then - no specific number goals but 10 lbs or more would be preferable.
I had a pretty productive Monday - I finally went to the grocery and did some meal prep! My schedule is so packed right now that I don't have much down time and I'm ready to lose it. I've been wanting to respond to all the sweet comments I got from the Medical Monday link up but this is really the first time I've been able to sit down. I woke up this afternoon (remember...work all night) to so many thoughtful messages, it completely made my day!
Good news and bad news - tomorrow is my last day of babysitting. I'm going to miss my little goobers - all four of them - but I'm so ready for a break. More downtime is necessary so I can really focus on eating clean and getting in quality workouts. I'm tired and I can't deal with the temptation of cheez-its, fruit snacks, and cookies all the time!
One last thing, tonight I made Jamie Eason's Turkey Meatloaf Muffins! I can't wait to try them tomorrow for lunch! Yum yum!
Ignore the yucky pan...I'm sure there's a Pinterest for that!
Jamie Eason's Turkey Meatloaf Muffins
Ingredients:
2 lbs. ground turkey

3 egg whites

1 diced onion

2 diced celery stalks

1 cup quick cooking oats

½ tsp ground cumin

½ tsp dried thyme

2 tsp dry yellow mustard

2 tsp black pepper

2 tsp chipotle pepper spice

1 tsp salt

2 tbsp garlic powder
Directions:
Pre heat oven to 375 and spray muffin pay with non-stick spray.
Mix all the ingredients in large bowl until combined. Roll into balls and put in muffin tin.
Bake for 40 minutes or until cooked through.
Makes 12 muffins.
Each muffin has about 120 calories.
I didn't follow this recipes exactly. I used minced garlic instead of garlic powder, an italian herb paste instead of thyme & mustard, and a chili pepper paste instead of chipotle pepper spice.
Next time, I'm definitely going to try to add some tomatoes or salsa in there...it needs a little something extra.
Das ist alles! Until next time.